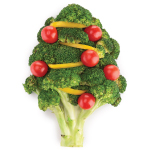 Here it comes. You hear it? The holiday hype. Must-have deals flood inboxes and crowd Facebook pages. Schedules become more hectic. Stress rises. Workouts are put off. Holiday treats are overeaten. By January you're worn out and a waist size bigger.
It doesn't have to be this way. This season see if you can take control and have fun in healthier ways. Here are some easy ways you can make it happen:
1: Enjoy the Food: Just Not ALL of the Food
It's tough to keep a healthy diet this time of year. There are lots of parties with high-calorie, high-fat foods. Healthy fruits, veggies and whole-grain foods take a back seat. The key is to find balance. Let yourself enjoy a favorite treat. Just keep the portion size small.
Here are some ways you can be smarter about food during the holidays. When going out:
Eat something before leaving for a party or holiday meal. Trust us on this. Having some fruit or raw veggies first will make you less hungry. This way you can ease into an event without going straight to the cheese plate or over-eating hors d'oeuvres.
Watch the drinks. Sip a glass of water between cocktails. Choose seltzer with a lemon twist rather than high-calorie soda, punch, eggnog or other cocktails.
When hosting:
Decorate tables with bowls of easy-to-eat fruits like clementines. Nuts are good too. A study published last month in the New England Journal of Medicine reported that daily nut eaters are less likely to die of heart disease or cancer.
Be sure to include a big green salad at dinners. Make it festive with ruby-red pomegranate seeds!
Serve large crudité platters or festive fruit bowls at holiday brunches and dinners.
2: Combine exercise and fun.
This is a big one. Too often the holidays don't allow time for activity. And if it's cold outside you have a built-in excuse. This year, fight that trend. Make an effort to find ways to get the whole family outdoors and active:
Bundle up and take a long walks to view holiday light displays. Look online to find listings for walking neighborhood displays.
If there's snow on the ground, pull out the toboggan and head to a sledding hill. Or build a headless snowman and take pictures of each child posing as Frosty.
Pack the family into the car and head to an ice rink or frozen pond for a pick-up hockey game.
No ice? Find a bowling alley, climbing wall or indoor water park for some active fun.
3: Sleep On It!
You might find that the hectic holidays are robbing you of sleep. Beware — being tired increases stress and might increase your chances of catching a cold. Don't shortchange yourself by not getting enough sleep during this busy time. Try these tips to help get a good night's sleep:
Avoid late-afternoon caffeine and nicotine. The caffeine in energy drinks, coffee, tea, cola and chocolate can take 8 hours to wear off. Nicotine is also a stimulant.
Don't drink alcohol before bedtime. A nightcap might help you fall asleep, but alcohol keeps you in the lighter stages of sleep. You also tend to wake up in the middle of the night once the effects of the alcohol have worn off.
Take a hot bath before bed. The drop in body temperature after a bath may make you feel sleepy and the bath can help relax you.
4: Look for Low-Stress (and Low-Cost) Gift Ideas
Buying just the right gift for everyone on your list can be stressful. And costly. An easy way to stay within your budget is to give a group gift. Think about something a couple or an entire family will appreciate. Some ideas include:
A family membership for a local museum
An appliance that all can enjoy such as popcorn popper and a jar of gourmet popcorn. Or a panini press and a cookbook. Or a waffle maker, waffle mix (whole-grain of course!) and a bottle of real maple syrup
A fun-for-the-whole-family game like Quiddler or Wits and Wagers.
A just-baked batch of Pumpkin Spice Muffins. The healthy recipe is below.
============================================================
Pumpkin Spice Muffins
Makes 2 dozen.
The white whole-wheat flour used in the recipe has all the fiber and vitamins of regular whole wheat but with a milder favor. King Arthur, Gold Medal and Trader Joe's are three national brands.
Ingredients
4 large eggs
1 cup sugar
1 15-ounce can pumpkin
1/3 cup vegetable oil
2 cups white whole-wheat flour
1 cup all-purpose flour
2 tsp baking soda
2 tsp baking powder
1 tsp each ground cinnamon, ginger and cloves
¼ tsp salt
1 cup raisins
Instructions
Preheat oven to 375 degrees. Liberally spray 12-cup muffin pans with cooking spray.
In a mixing bowl, beat eggs, sugar, pumpkin and oil until smooth. With a rubber spatula, blend in flours, baking soda, baking powder, spices and salt: do not over mix. Fold in raisins.
Fill muffin cups 2/3 full. Bake for 16 to 18 minutes.
Nutritional Information Per Serving
203 calories
6g fat
2 g saturated fat
0g trans fat
4g protein
35g carbohydrate
3g fiber
178mg sodium